Technology in the Classroom
At SFA, technology is used strategically to enhance our academic programming. Faculty and staff members develop lessons that focus on innovation and collaboration to tailor learning opportunities to individual student needs. Students use a variety of devices to engage in research, communication, investigation, and presentation activities.

SFA is 1:1 with all students
iPads for pre-kindergarten through 5th Grade
Individual MacBook Air Laptops for All Students Grades 6th-8th
Individual MacBook Air Laptops for all teachers
Updated Wireless Infrastructure was installed throughout the school
School Management System (Schoology) to access assignments, calendar, grades, and communications grades PK – 8
Securly - Web-based filtering system to monitor and protect students online.
21st Century Campus Environment
St. Francis School employs technology throughout the campus as well to support the faculty and staff, improve communications amongst parents, and the entire SFA community, and in general streamline the operations of the school. Some of our system-wide technology includes:
AdministratorsPlus School Database System
Emergency Notification System with AdministratorsPlus
Security Cameras
Perimeter Access Control
Some of our Facilities
WeatherBug Weather Station and Weather Camera
25 Robots and Related Programming Facilities for use by 5th - 8th grade Science Classes
Android devices for coding in PLTW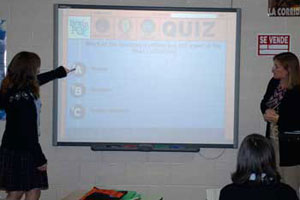 Some of our Applications
Accelerated Reader
Discovery Streaming Video
BrainPOP
Star Reading Level Assessment
IXL and ALEKS Mathematics Assessment and Learning System
Google Classroom Applications
Follett Library System