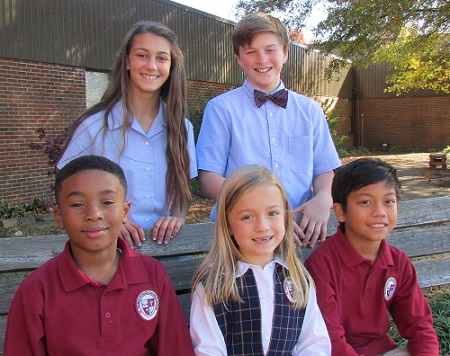 Sponsored by SFA Parent Teacher Organization Annual
DROP OFF DATE / TIMES
Friday, July 28, 2017 - 4:00pm - 6:00 pm
SALE DATE / TIMES
Saturday, July 29, 2017 - 8:00 am - 12:00 pm
PICK UP DATE / TIMES
Saturday, July 29, 2017 - 4:00 pm - 6:00 pm

OPEN DOCUMENTS ABOVE FOR CONSIGNOR LINKS
Consignor Rules / FAQs
All Items must be entered into the system and tags printed by Thursday, July 27, 2017 at 10 pm. The system will be completely closed after this time.
General Information
You will receive 75% of the price you set for your items in tuition credit. You do not receive extra if you volunteer to work. If you will no longer be attending SFA you must contact us at sfauseduniformsale@gmail.com to set up other payment arrangements.
Minimum price is $0.50 for your items
Anything NOT picked up by 6:00 pm on Saturday, July 29, 2017, will be donated to Home and School.
St. Francis is not responsible for lost or stolen items.
If you DO NOT want clothes donated, you will need to pick your clothes up during the specified time.
Tag Placement and Clothing Information
Tags must be generated by the software provided through this website. Six print to a page. Use thin card stock, not adhesive.
Only 1 tag per item or set.
*Please Note the instructions for hanging and folding items & Drop off requirements*
Clothing must be hung on wire or heavy duty plastic hangers. The hanger hook should face left (like a question mark) with the tag pinned to right side of garment as you face it.
The following items should be hung according to the above instructions:
All button down shirts, polos, jumpers, jackets, fleece, pullover sweatshirts, and spirit shop items.
The following items should be folded with the tag pinned to the top, right side of the garment as you face it:
All PE shorts, sweatpants, t-shirts, sweatshirts, plaid skirts, khaki pants, khaki shorts, khaki skorts, all sweaters, leggings and under skirt shorts.Shoes, ties, hair bows, & socks should be placed in Ziploc bags with tag on the item inside the bag.
Books can be sold individually or as a set bundled together and in a ziploc bag with the tag attached to the book or set.
Please note on the tag if it is a set and if applicable; what grade it is required for reading.
Clothing should be in size order by gender when dropped off.
Clothing will be inspected upon drop off. Items should be uniform or spirit shop purchases; no year dated clothing please. All clothing should be laundered prior to selling. Uniform clothing and shoes should not have handwriting or marks on them and free of holes. If items do not meet these school standards they will be returned to you and not sold.
Tagging Info:
Software generated tags are required on ALL items.
All tags should include the price, description and size of your item (This is invaluable information if the tag has been removed or wording worn off).
All tags must be printed on card stock or labels affixed to index cards.
Safety Pin must be pinned horizontally across the top of the tag.
Straight Pins are not acceptable! These cause injuries to the workers.
We are now on-line with a new way to provide consignment information.
Questions about the sale, please send an email to: sfauseduniformsale@gmail.com.