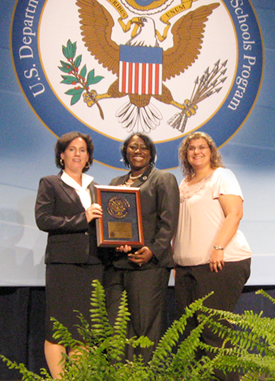 From the time we were first established as St. Francis of Assisi Catholic School in 2004, many of our families, faculty and staff members urged us to pursue the distinctive Blue Ribbon School Award. Since a newly established school must have been in existence for a full five years, we waited until the time was right and applied in October 2009 to be considered for the 2010 award.
The Blue Ribbon Schools Program seeks to identify truly exemplary model schools, not just good schools or strong schools. The program honors public and private elementary, middle and high schools that qualify as either (1) Exemplary High Performing- in the tested year all grades must be among the top 15 percent of scores in reading and math as measured by a nationally normed test or (2) Exemplary Improvement to High Levels- schools that have at least 40 percent of their students from disadvantaged backgrounds and have demonstrated dramatic gains in reading and math.
On September 10, 2010 St. Francis of Assisi Catholic School was announced by the U.S. Department of Education as a Blue Ribbon School of Excellence with the distinction of qualifying as "Exemplary High Performing".
Our Blue Ribbon School recognition is "the icing on the cake". Talk to any teacher, administrator or staff member at St. Francis and you will find that we've always believed that "Great things happen here". We love what we do, we have amazing students and families to work with and we try daily to live by the mission "To teach as Jesus did".
This award belongs equally to our Pastor, Priests, every student, parent, teacher, staff member, administrator and parishioner. Each of us and our belief in Catholic Education has helped to create the atmosphere where students learn in an environment of Christian love, community and rigorous academic standards.
We are PROUD to be a Blue Ribbon School of Excellence!!